In Home Dog Boarding
All dogs need a loving and relaxing home environment where they feel like they're a part of a family. Because You Love Them! Pet Care Services gives you the option of allowing your special one to stay in our smoke free, dog friendly home.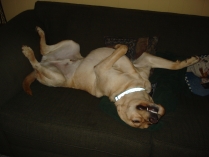 To ensure quality, one on one time is spent with your pet, space is limited to a maximum of 3 dogs at the same time.
Because this is not a kennel environment, dogs need to be:
Social with other people and pets
House trained
Non-destructive
Well groomed and clean
Neutered / spayed
Vet prescribed and up to date flea and tick control during the summer months (June to October)
Up to date with the following vaccination: Rabies, DHLP (Distemper, Hepatitis, Leptospirosis, Paravirus), and Bordetella (aka Kennel Cough)
Our private, in-home boarding allows all dogs to roam freely and interact with others, so for the safety of all we must choose carefully who we allow into our home. While most dogs are great within their own environment, under certain circumstances any dog can become disruptive or dangerous. At the discretion of Because You Love Them! Pet Care Services, any dog exhibiting aggressive or excessive behaviours such as possessiveness towards food and/or toys, barking or whining, mounting (humping), destructive or escape attempts will not be permitted to use this service.
To ensure a positive experience and outcome, an overnight trial may apply for first timers. This must be arranged at least 2-3 weeks in advance. Please see Our FAQ's page for more information about our In Home Dog Boarding service.
Rates:
Overnight Trial
(One Time)
Per Night Stay
(excluding Holidays)
Additional Dog(s)
(Must be from same home)
Holiday
$25
$50
$10 each
$5 extra
You can view our Holidays Observed here.
Remember, it's Because You Love Them!
TOP