Dog Walking
Each walk is tailored to accommodate your dogs age and fitness level. This gives them the opportunity to walk at their own pace. While some dogs may enjoy a quick, brisk walk, others may enjoy stopping often to "smell" the roses, fire hydrants, trees, etc.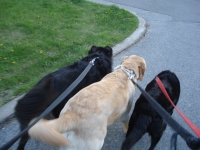 Your pets' safety and protection is of the utmost importance. For this reason, the following will apply:
All dogs are kept on leashes and only walked in their own neighborhood. (No off-leash dog parks).
No more than 3 dogs are permitted on each walk. This allows the walker to focus their full attention on your dog.
Walk will terminate immediately if any dog exhibits excessive aggression or dangerous behavior towards people / other dogs that could put others in harms way.
Due to inclement weather, Because You Love Them! Pet Care Services may substitute the walk for indoor playtime or reschedule for the next available date.
("Inclement Weather" refers to severe Weather conditions involving snow, rain, wind and / or ice).
Rates:
30 Minutes
60 Minutes
Additional Dog (s)
(must be from same home)
Weekend / Holiday
$18
$28
$5 each
$5 extra per walk
To view Holidays observed, please click here.
Remember, it's Because You Love Them!
TOP